We have been custom making horse blankets and apparel for over 30 years. Starting with the welfare of the horse in mind, we know that various breeds require various styles of clothing and also that individual trainers and horse owners have their own taste. Thus, our custom, made to order horse blanket and accessory business was born.
As horse lovers ourselves, we know that the primary concern of every horse owner is the safety and protection of our animals. We know what is needed and practical and how to put it all together with meticulous, old-fashioned craftsmanship. We use only the finest quality fabrics- with emphasis on beauty, comfort and durability. We have developed our own system for measurement that insures the best possible fit for each individual horse. We enjoy and welcome the participation and input if each of our customers. Whether you order for a whole barn or for your backyard pet, we want each piece to be tailored to the needs and preferences of the individual customer.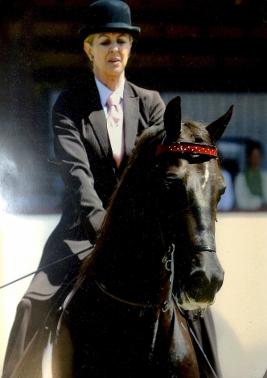 Diana Dover is a horse lover through and through. She graduated from Michigan State University with a major in Textiles and Retail Sales, knowing instantly that she had to combine her business mindedness and passion for horses and from then on Diana has been dedicated to creating remarkable products in all aspects of horse-wear and related accessories. With a functional focus on comfort and utility, Diana's product have been featured at horse shows and equine functions across the nation.